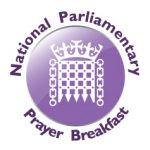 The National Parliamentary Prayer Breakfast is an annual recognition of the contribution that Christianity makes to the national life of the UK. In 2020, the Prayer Breakfast is chaired by Andrew Selous MP and will take place on Tuesday 23rd June 2020 in Westminster Hall. Our main speaker is Revd Les Isaac OBE, founder and CEO of Ascension Trust, who will address the theme of 'Serving the Common Good'.
Programme
The 2020 programme will be published in early 2020.
Attend
Bookings for the 2020 Prayer Breakfast will open in early 2020.